Course Description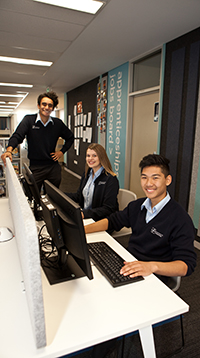 The St Patrick's Technical College Information Technology program prepares you for a career in Software Engineering and Development. You will learn how to code in order to create new software products for a variety of operating systems plus web and cloud application development.
This program features a Certificate IV level Information Technology qualification as part of a pathway to Diploma and Degree level qualifications post-school.
Information Technology students at St Patrick's Technical College undertake projects designed by Software Engineers from Saab Australia as part of the Australian Government's $5.1 million P-TECH project. Projects span Saab Australia's capabilities in Adelaide including air, land, naval, security, civil aerospace and mixed reality applications.
The P-TECH – Saab Australia projects give you the opportunity to apply your learning from the College's industry-focused STEM curriculum plus the Information Technology qualification that forms part of your program. Key personnel from Saab Australia, including software engineers and technicians, work with you on the projects and as mentors throughout the program.
This program is part of the StPatsTech School of Engineering & Transport. To see the other pathways available in this sub-school, visit the Programs page.